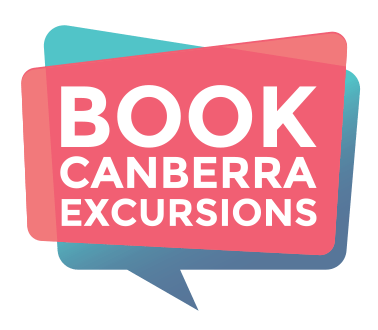 BCE System – Usage Conditions
Please carefully read the following Conditions related to the Book Canberra Excursions (BCE) system.
This document should be read in conjunction with any policies and information provided by individual national attractions.
Additional venue-specific information is available on each attraction's website
DISCLAIMER
The National Capital Educational Tourism Project (the NCETP) seeks to ensure all users of the BCE system are aware of the Disclaimer, and reserves the right to change this without notice.
While every effort is made to maintain the accuracy and currency of information on the BCE system, including information relating to programs and services offered by attractions, the NCETP cannot guarantee all content is current.
The NCETP accepts no responsibility for material on any external site to which the BCE system links.
To the extent permitted by law, the NCETP and the Australian Government disclaim all liability (including negligence) for all claims, losses, expenses, damages and costs a user may incur as a result of, or associated with:
use of information on the BCE system
damage to a user's website or system, or to 3rd parties linking to the BCE system.
Linked External Websites
The BCE website may contain links to other websites.
The NCETP is not responsible for the privacy practices of any other site and their privacy policy may differ.
NCETP has no direct control over the content of any linked websites, or changes that may occur to such content.
Links to external websites are provided in good faith, but it is the responsibility of the user to make their own decisions about the accuracy, currency, reliability and correctness of information contained therein.
Links to external websites do not constitute an endorsement or a recommendation of any material on those websites nor of any 3rd party products or services offered by, from or through those websites.
Users of links provided by the BCE website are responsible for their own knowledge and understanding of organisations hosting external sites.
PRIVACY POLICY
This Privacy Policy should be read in conjunction with policies and information provided by individual attractions.
The NCETP seeks to ensure all users of the BCE system are aware of this Privacy Policy and reserves the right to change this without notice.
The BCE system follows the Australian Privacy Principles Guidelines issued by the Office of the Australian Information Commissioner.
The BCE system adheres to the Australian Privacy Principles in the Privacy Act 1988 (the Privacy Act), which regulate how agencies collect, use, disclose and store personal information, including sensitive information, and how individuals may access and correct records containing their personal information.
In addition, the BCE system adheres to the Information Privacy Act 2014 (ACT) and the Territory Privacy Principles.
The BCE system may collect personal information such as name, company name, email address, invoicing address, phone number, school name, school address, teacher name, teacher contact email address and teacher contact mobile phone number.
Once the BCE system receives information it is in a secure environment.
Personal information stored within the BCE system will not be released unless permitted by law, or permission for its release is granted.
The BCE system will use and disclose personal information for the following purposes:
Enhancing service improvements.
Enabling user interaction, to manage online bookings.
Facilitating the booking lifecycle.
Identifying and authenticating users.
Invoicing, where applicable.
Periodic statistical reporting.
Processing booking requests and associated program and service provisions.
Product and market research relating to the NCETP and national attractions.
Providing relevant information related to visiting Canberra.
The BCE system stores personal information and other booking details in a secure offline server to help manage bookings information.
Contact details may be provided to the Department of Health or other authorities in compliance with COVID-19 regulations for contact tracing purposes, as required.
Contact details provided will not be added to any external mailing lists
By using the BCE system you consent to the collection, use and disclosure of your personal information in the manner described and for the purposes set out above, and you warrant you will only provide contact details of others in accordance with the spirit of this Privacy Policy.
If you do not provide consent to the collection, use and disclosure of personal information for the purposes outlined above you will not be able to make bookings using the BCE system.
Cookies & Website Analytics
The BCE system uses 'cookies', as used by most major websites.
A cookie is a small text file the BCE system may place on your computer so it can remember your user preferences.
The cookie is stored on your machine, but it is not an executable program and cannot do anything to your machine.
You may refuse the use of cookies by selecting the appropriate settings on your browser, however if you do this you may not be able to use the full functionality of the BCE system.
When a web browser requests a file from a web server that sent a cookie, the browser sends a copy of the cookie back to the server, along with the request, so the server knows you have visited before and can coordinate your access to different pages on the BCE system.
A server cannot discover a name or email address, or anything about a user's computer, by using cookies.
Cookie information is neither stored nor collected by the NCETP.
The BCE system uses a range of analytics services which send website traffic data to servers offshore.
These services do not identify individual users, or associate your Internet Protocol address with any other data held by the NCETP for other purposes.
The NCETP uses reports provided by analytics providers to help it understand website traffic and webpage usage.
You can opt out of analytics if you disable or refuse the cookie, or disable JavaScript.
Clickstream Data
Clickstreams are paths a user takes when navigating the internet.
When you visit the BCE system servers record the following information for statistical purposes:
browser type
search terms used
referring page address
previous site or page visited
date and time of visit to the site
top level domain name (.com, .gov, .au, etc.)
pages accessed and documents downloaded
server Internet Protocol address and machine name
number of bytes transmitted and received for each request.
The NCETP examines this information to determine traffic through the server and to specific pages or applications.
To deliver better services we perform statistical analyses to establish priorities and allocate resources.
No attempt will be made to identify users or their browsing activities, except in the event of an investigation, where a law enforcement agency may exercise a warrant to inspect server logs.
Statistics and log files may be preserved indefinitely and used at any time and in any way necessary to prevent security breaches, and to ensure the integrity of information supplied by the NCETP.
MailChimp & Privacy Consent
The NCETP uses MailChimp to provide eNewsletters to BCE system users.
MailChimp hosts an online platform and provides online tools that can be used to create, send, and manage emails.
MailChimp may collect personal information, such as distribution lists containing email addresses, and other information relating to those email addresses.
For further information about the type of personal information MailChimp collects refer to the MailChimp Privacy Policy.
MailChimp uses this information to measure its performance, to improve features for specific customer segments, to evaluate use of service, to compile reports on website activity, and to provide other services relating to website activity and internet usage.
MailChimp may transfer this information to 3rd parties where required to do so by law, or where such 3rd parties process the information on MailChimp's behalf.
MailChimp uses cookies, Web Beacons and Flash player code to collect information about when you when you use its services, your browser type and version, your operating system, and other similar information.
The NCETP uses email addresses supplied to it to:
create, send and manage emails relating to the work of the BCE system
evaluate use of the BCE system
improve features for specific segments of clients
measure email campaign performance
provide other services relating to website activity and internet usage.
MailChimp is based in the United States of America (the USA).
Information collected about use of the MailChimp website (including Internet Protocol addresses) will be transmitted to and stored by MailChimp on servers located outside Australia.
You can opt out of our mailing list by choosing the 'unsubscribe' service provided by MailChimp in every email, or by contacting the NCETP.
You can also disable or refuse cookies, or disable Flash player; however you may not be able to use the services provided by MailChimp if cookies are disabled.
For further information please Contact MailChimp.
MailChimp has the endorsement of TRUSTe's Privacy Seal, which means this privacy policy has been reviewed by TRUSTe for compliance with their program requirements including transparency, accountability, and choice related to the collection and use of your personal information.
TRUSTe is an independent 3rd party that operates a globally-recognised privacy trustmark.
Copyright Notice
Except insofar as copyright in this website's material vests in 3rd parties, as explained in the paragraph below titled '3rd Party Copyright', material contained on the BCE website constitutes copyright administered by NCETP.
The NCETP reserves the right to set out terms and conditions for the use of such material.
Subject to any contrary statement on material elsewhere on the BCE website – and except for the Commonwealth Coat of Arms (which must only be used in accordance with the Guidelines for use of the Commonwealth Coat of Arms), the NCETP logo and any material protected by a trademark – you may download, display, print and reproduce the material in unaltered form only (retaining this notice, and any headers and footers) for your personal, non-commercial use or use within your organisation for non-commercial purposes.
You may distribute any copies of downloaded material in unaltered, complete form only (retaining this notice, and any headers and footers).
Apart from permitted uses under the Copyright Act 1968, and those explicitly granted above, all other rights are reserved.
© NCETP 2021.
3rd Party Copyright
Wherever a 3rd party holds copyright in material presented on this website, the copyright remains with that party; their permission may be required to use the material.
The NCETP has made all reasonable efforts to clearly label material where copyright is owned by a 3rd party, and to ensure copyright owners have consented to the material being presented on the BCE website.
Ownership of Intellectual Property Rights
Unless otherwise noted, copyright (and any other intellectual property rights, if any) in the BCE website is owned by the NCETP.

All material in this website is licensed under a Creative Commons Attribution-NonCommercial-NoDerivatives 4.0 International Licence, save for content supplied by 3rd parties, logos, any material protected by trademark or otherwise noted in the BCE website, and the Commonwealth Coat of Arms.
Creative Commons Attribution 4.0 International Licence is a restrictive licence, allowing others to copy and reproduce material in any medium or format in an unaltered form for personal and non-commercial use only, provided acknowledgement of the source of the material is made.
Any remixed, transformed or built-upon derivates are not to be distributed.
A summary of the Creative Commons Attribution-NonCommercial-NoDerivatives 4.0 International Licence terms is available.
The full licence terms are available.
Feedback
All general enquiries and feedback about these Usage Conditions, or requests for access or correction, should be directed to the NCETP.
| | |
| --- | --- |
| Phone: | 02 6162 4460 |
| Fax: | 02 6162 4461 |
| Email: | admin@ncetp.org.au |
| Mail: | PO Box 1148 Dickson ACT 2602 Australia |
For other enquiries about the Book Canberra Excursions website please visit canberraexcursions.org.au.
National Attractions – Terms & Conditions
2023 School Excursion COVID-19 Guidelines
School Excursion COVID-19 Guidelines - Frequently Asked Questions
These terms and conditions were last updated on 8 February 2023