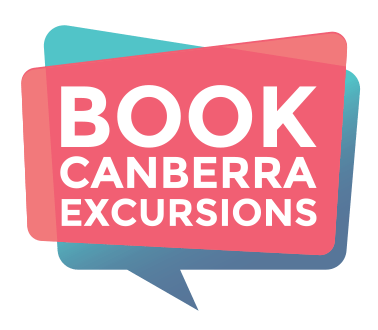 Entry to Attractions – Terms and Conditions
The following information provides a general overview of requirements for booked group entry to national attractions.
Please refer to the booking confirmation issued by each attraction for venue-specific information relating to your excursion to Canberra.
Additional information is available on each attraction's website regarding venue-specific programs, services and policy.
Bookings
No booking request submitted through the Book Canberra Excursions system is confirmed until an attraction accepts the request for attendance at their venue.
Third parties making a booking on behalf of a school should seek the consent of their client before making the booking.
Venues allocate minimum and maximum participant numbers to ensure the quality of available programs and services.
Larger groups should book multiple sessions to ensure all students receive a quality experience through participation in program activities.

However, to enable fair access for all BCE system users, overbooking of simultaneous sessions is not permitted.
Users who deliberately overbook simultaneous sessions may have their system access privileges revoked.

When a desired session is unavailable a waiting list request may be made.

Sessions becoming available due to cancellations will be reallocated through the waiting list.

Booking owners are responsible for allocating sufficient travel time between venues to ensure they receive the full program experience.

Back-to-back bookings are not recommended.

Venues allocate appropriate facilitator-to-participant ratios and provide a safe, inclusive and effective environment for people experiencing their programs and services.
Program materials, resources and curriculum links for students and educators are available on each attraction's website.
Automatic email confirmations generated 6 months, 3 months, 1 month and 2 weeks prior to scheduled arrival are provided to schools and tour operators.
Rules of entry
Teachers and supervising adults have a duty of care and should accompany students at all times while visiting attractions, as they are responsible for their student's conduct.
Venues do not accept responsibility for the negligent acts or omissions of visitors.
Shoes should be worn at all times, except when signposts or instructions from venue staff encourage their removal.
Venues offer little or no secure storage for student bags.

Bags and personal items should remain on coach service to ensure these are safely secured.

All visitors are responsible for the safekeeping and security of their valuables and personal belongings while inside venues.

Each venue's liability is exclusively limited to loss and damage caused by a negligent act or omission by that venue.

Unless otherwise advised, food and drink are not permitted inside venues and exhibitions.
All attractions are non-smoking venues, with outside signage indicating designated smoking areas.
Please refer to your booking confirmation for venue-specific clarification on photography restrictions.

Unless advised otherwise it should be assumed photography is not permitted in exhibition spaces, due to copyright and conservation concerns.

Entry to each venue assumes a shared responsibility for personal safety and the safety of others.

In accordance with the Work Health & Safety Act 2011 visitors are to:

take responsible care of their own health and safety
take reasonable care to ensure they do not adversely affect the safety of others
comply with all instructions given by venue staff, so far as they are reasonably able to.

Venues retain the right to refuse entry to any patron if these conditions (or other venue-specific conditions) are not followed.
Admission
Admission prices are GST-exempt, unless otherwise advised.
Admission prices are applied at the discretion of each attraction and are subject to change without notification.
Advance payment is not accepted, due to fluctuations in final numbers on scheduled days of entry.
Entry cannot be guaranteed for groups without confirmed bookings.
Bookings are required for all facilitated programs and should be made at least 2 weeks prior to arrival.

Additional charges may apply for bookings made within 14 days of an intended visit.

Final student numbers are to be confirmed at least 14 days prior to a scheduled visit.
Admission may be refused, or an alternative program substituted, when student numbers exceed the scheduled booking total.
A minimum charge exists for some programs, regardless of the number of participants.

Please refer to individual programs at the time of booking.

Adults with a Carer Card who accompany a student are free of charge.
Adults accompanying a student with a Companion Card are free of charge.
At the discretion of each attraction access to group admission prices may be dependent on the presentation of home school certification or proof of registration.
Price increases will apply to all bookings, either existing or new, from the future date at which it has been determined to increase prices:

e.g. if a price increases from $5.00 to $6.00 on 1 July 2019 all visits from that day will on will attract the new price, whether already booked or not.

Each attraction will determine when to change its prices, however attractions will endeavour to give 6 months' notice of changes to minimise the impact of price changes on schools already booked in.
A disclaimer must alert clients to the fact that a price quoted at the submission of a booking request is indicative only, and subject to change based on a variety of factors, including final student numbers and possible price movements.
Following their visit schools are invoiced for the total number of students and paying adults.

Teachers and accompanying adults are offered free-of-charge admission based on total student numbers and any applicable adult-student ratios.
Please refer to each venue's booking confirmation and website for information regarding free-of-charge ratios.
Offers
Promotional offers are subject to the terms and conditions.

In the event of any ambiguity or inconsistency, these Terms and Conditions prevail.
Offers are subject to change without notice and are not valid in combination with any other offers, discounts, coupons or prior purchases.
Cancellation/Non-arrival
Please contact each venue at your earliest convenience if you require changes to your booking.
Groups arriving later than 5 minutes after a scheduled booking time may not receive a full program due to real or potential impacts on other scheduled arrivals.
Groups arriving later than 15 minutes after a scheduled booking time may have their session cancelled.

Please refer to each venue's booking confirmation and website for further information.

Eligibility for the Parliament and Civics Education Rebate (PACER) may be affected by groups arriving late at an attraction for a scheduled program.
Booking alterations and/or cancellations require a minimum of 14 days notice prior to a scheduled visit – charges may result and are applied at the discretion of each attraction.
A surcharge may apply to group bookings scheduled for weekends or public holidays (ACT and national).

Please refer to each venue's booking confirmation and website for further information.
Transfer of booking ownership
Please review booking confirmation information carefully and advise relevant attractions of any required changes.
Bookings can only be changed by a teacher identified in a booking or by the tour operator company (acting on behalf of the teacher) which initiated the original booking.
Should a third party require a change of ownership to an existing booking, either a representative of the school identified in the original booking or the tour operator (acting on behalf of the school) should download the Transfer of Ownership form from the BCE website.

This should be emailed with an accompanying school letterhead, as proof of identity, to support@bookcanberraexcursions.com.au.
The NCETP will then transfer booking ownership within the BCE and notify relevant venues and teacher/tour operators of the change.
Working with Vulnerable People
Venues comply with the legislation outlined in the ACT's Working with Vulnerable People (Background Checking) Act 2011, as it applies to staff and volunteers working in the cultural institutions sector.
The purpose of the legislation is to reduce the risk of harm to vulnerable people, including children, young people and adults with a disability, by establishing mandatory background checking and risk assessment systems for people working with vulnerable people.
Under this legislation all venue staff and volunteers who work with vulnerable people have completed a Working with Vulnerable People background check and a National Police Check prior to engagement.
Surveillance Cameras
Surveillance cameras are installed at most venues:
to monitor and record venues and exhibits
to ensure internal quality monitoring
to ensure the safety and security of staff and visitors
for use in conducting visitor research.
For the purposes listed above venues may pass some or all of the information collected by their surveillance cameras to the ACT Emergency Services Agency, law enforcement bodies, or other agencies or individuals, as per their agency's procedures.
Information collected by surveillance cameras will not be used for any other purpose or disclosed to any other person or organisation unless such a use or disclosure is authorised by or under the Privacy Act 1988 or any other laws.
BCE System Usage Terms & Conditions
These terms and conditions were last updated on 22 January 2019